Proper pallet stacking and storage ensure a safe workplace for you and your employees.
How you stack and store your plastic pallets is also crucial in keeping your products in good condition.
However, the best storage method depends on these 3 criteria:
Type of stock you own
How frequently do you need to access it
Load weight and available space.
Learn more about the different pallet stacking methods.
Pallet Stacking And Storage Solutions
Loaded Pallet Stacking and Storage
With loaded pallets, the type of stock and when you need to access it is the biggest consideration, particularly if you work with perishable goods, such as pharmaceuticals or food.
FIFO (first in first out) storage system: In pharmaceutical and food industries, pallets must be stored so that the oldest products are picked first, rather than buried under stock that has arrived after.
LIFO system (last in first out): The opposite, where pallets are stacked up and the item on top is picked first.
---
Unloaded Pallet Stacking & Storage
Although you don't need to protect whatever's loaded on the pallet, there are still a number of safety considerations when storing unloaded pallets.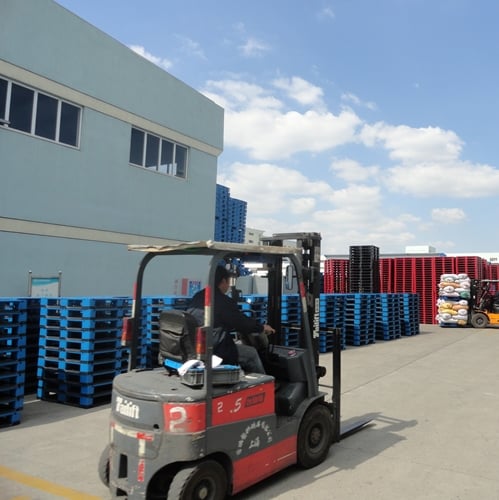 Maximum height: The taller the load, the more dangerous it becomes. A large number of pallets falling from height could cause considerable damage to anyone nearby.
Pallet sizes: Different types of pallets should be stored separately so that the pile is more stable and less likely to topple.
Pallet condition: While it may be tempting to hang on to damaged pallets, they are also more likely to cause a weakness in the tower and cause it to collapse. Where damaged pallets have nails sticking out or are splintered, they can cause even more damage if they fall.
Weather conditions: Wooden pallets in particular are susceptible to mould and mildew if allowed to get wet or stored in damp conditions. This causes problems if they're to be used in industries where hygiene is crucial, such as the pharmaceutical sector.
Fire risk: Wherever they're stacked, wooden pallets in particular pose a fire risk and your storage arrangements must meet local safety compliance legislation.
With unloaded pallets, some of the concerns that must be accounted for come down to the material used as much as the way you store them.
It's worth considering the materials available when you're planning your operational needs.
Plastic pallets are a particularly good alternative to wood in industries that rely on hygiene, as they're inherently mould and pest resistant. There's also no risk of splinters or loose nails with when using plastic.
Recommended: Learn more about plastic pallets vs wooden pallets.
---
Pallet Racking
Pallet racking is the most common option and what people tend to think of when picturing a warehouse. There are many different types, including:
Single-depth racking.
Double-depth racking.
Conveyor belt flow racking.
Drive-in racking.
Depending on the set-up, racking can allow for a FIFO or LIFO system and range from providing individual slots for each pallet, to elaborate automated conveyor belt systems where stock is automatically moved into position.
---
Block Stacking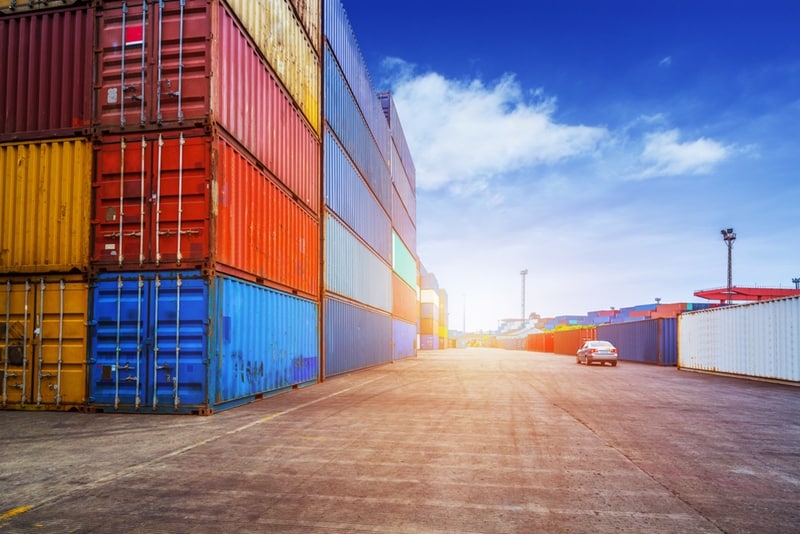 When block-stacking plastic pallets, loaded pallets are stacked directly on the floor.
Block stacking is a LIFO system.
The fact that block stacking works with LIFO (last-in-first-out) inventory management is one of its constraints. If that's what you want to do, then it can work for you. But if LIFO management of your inventory is not what you want, accessibility will be a big issue.
According to Adapt A Lift, in their article titled Block Stacking – Warehouse Basics:
"Block stacking is a form of palletised storage that does not require any type of storage equipment, and instead loaded pallets are placed directly on the floor and built up in stacks to a maximum stable storage height. Lanes are created to ensure access to the different stock-keeping units (SKUs)."
They're usually stacked on top of each other in small blocks, such as three units high and three wide.
Given there's no cost associated with buying, installing and maintaining racking, it's a much cheaper option. However, you cannot get to the pallets at the bottom without moving those on top. Those underneath must also be able to take the weight of the goods on top.
When planned properly, and the access and visibility of products are well planned out for, block-stacking can be a great advantage and work even better than pallet racking.
---
Pallet Stacking Frames
Pallet stacking frames allow a similar set-up to block stacking but with added weight support.
The pallet stacking fits in between each pallet and bears much of the weight so pallets can be stored on top of each other to greater heights than with traditional block stacking.
View an example of pallet stacking frames and how they work in this video below:
---
Pallet Stacking & Storage FAQ
What is the proper way to stack pallets?
In general, the heaviest goes on the bottom. This goes for when you're loading the plastic pallets. This allows weight to be best distributed because the bottom, the heaviest pallet, will support the lighter-loaded pallets stacked upon it.
How do you not stack pallets?
According to SafeWork NSW Pallet Racking Guidelines, out-of-plumb racking that is not vertical, damaged racking braces, missing or damaged floor fixings, improperly placed or damaged splices, damaged uprights, loose anchor bolts that secure the racking, missing beam connectors or safety clips, overloaded beams, damaged beams or welds, all create unsafe situations and the potential damage and should be properly inspected.
Learn more about reporting unsafe situations and damage and view the full SafeWork NSW Pallet Racking Fact Sheet, here.
How high can you stack a pallet in Australia?
As shared by Freight Match,
"Pallet dimensions are usually 116cm long by 116 cm wide, so they are square. In most cases, the preferred height for a pallet is 1.8m. Some trailers are capable of taking pallets up to 2.4m high, but not all."
Do you have a warehouse pallet racking inspection checklist?
It's essential to have vital racking equipment in 100% condition at all times and to have procedures in place to make sure your pallets are always stored correctly. View our pallet racking inspection checklist to learn more.
---
At Eco Pallets Australia, we have a wide range of plastic pallets that protect your business from key safety concerns. With a range of sizes and types, we're bound to have something that works for your business. Speak to our expert team today.