Read below for the reasons why Eco Pallets should be your first choice when it comes to sustainable materials handling solutions.
We are the pallet and crate experts

We have an extensive range of pallets and crates across Australia and New Zealand

We have an Australia and New Zealand wide presence

Ability to supply small and large quantities at short notice

Experienced and well managed team

Offering our customers a diverse range of sustainable materials handling solutions

All products pass AQIS and customs related issues
ADVANTAGES OF PLASTIC PALLETS:
100% recyclable
Lightweight
100% size and strength consistency
Safer handling, without nails & splinters
No mould, or dust contamination issues
Suitable for hygienic areas
Easily cleaned
Impervious to moisture, weak acids & alkalis
No need for fumigation
Longer working life
An investment for the future
Save on freight costs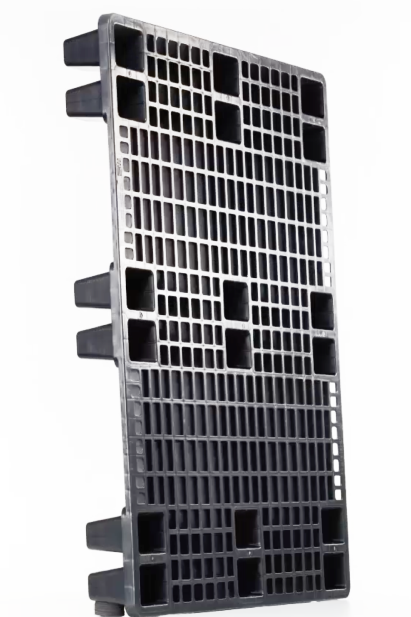 Our plastic pallets are lightweight.
With transport, weight is a key factor when calculating your freight costs, so it is paramount to keep the total weight as low as possible.
100% size and strength consistency
By virtue of the moulding process, and inherent quality control procedures involved in the hi-tech manufacturing process of plastic pallets, the dimensional accuracy and load ratings of those pallets are always 100% consistent. Our pallets are moulded under extreme pressure, in highly polished accurate moulds. The process itself produces an exceptionally high quality product.
Safer handling, without nails & splinters
Our pallets are much safer for handling in dispatch areas due to there being no possibility of loose component parts breaking free under manual lifting conditions which could potentially cause injury. Perhaps more importantly, there are no nails, sharp edges or splinters in our pallets to damage either operatives' hands or products being loaded onto the pallets.
No mould, or dust contamination issues
Plastic pallets made in polyethylene or polypropylene are not subject to any inherent mould or dust contamination issues. Whether of open or closed deck design, the surfaces of plastic pallets are smooth, and the moulding process under high temperature and pressure produces sealed material.
Suitable for hygienic areas
All styles and types of our plastic pallets are suitable for hygienic applications. In addition, the specialist Hygiene Pallets Series have totally smooth sealed enclosed surfaces, removing any possibility of impurities accumulating in the pallet's structure.
Our pallets can be repeatedly steam cleaned or washed to remove any airborne dust or spilt products which accumulate on the pallets over a period of time.
Impervious to moisture, weak acids & alkalis
Regardless of the operating conditions, our plastic pallets will not absorb moisture, even under the most adverse conditions. Generally, both polyethylene and polypropylene pallets are unaffected by weak acids and alkalis.
Meets AQIS requirements for export to Australia & New Zealand
Use of our specially designed pallets for export removes the requirement for the Treatment Certificates which apply to other pallets, and the associated risks of consignments being quarantined on arrival, through documentation and certificate expiry problems.
PLASTICS PALLETS HAVE A LONGER WORKING LIFE
In a closed loop distribution scenario, with normal handling and loading within design limits, a plastic pallet has a potential life span of up to, and even exceeding, 10 years.
AN INVESTMENT FOR THE FUTURE
Taking into account the excellent working life
our pallets are an investment for the future.