Eco Pallets Australian Pallet Company
Plastic Pallets, Bulk Containers, Bunded Pallets & Collapsible Crates.
OUR HISTORY AND BACKGROUND
Eco Pallets was established in 2009 and our mission is to provide sustainable materials handling products and solutions to customers in Australia and New Zealand. The Company operates from Perth and is supported by distribution centres in Sydney, Melbourne, Brisbane and Auckland. The Company's flagship products are pallets and crates made from 100% recycled plastic. Our products are in the forefront of the industry trend for sustainable plastic pallets to replace the traditional wooden products. Plastic pallets offer superior performance, are significantly lighter and have critically important hygiene and quarantine friendly attributes.
The Company supplies to a broad range of industries in the pharmaceutical, food & beverage, mining, oil & gas, government and transport sectors. Our customers include major businesses owned by ASX200 companies.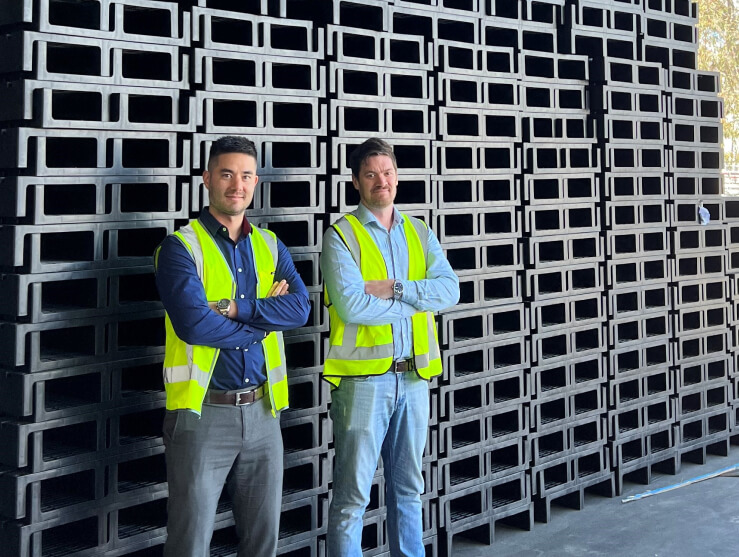 Feel free to get in touch with one of our experts below so we can find the right product to suit your application.
Eco Pallets is accredited as an Australian Trusted Trader, a Federal-government initiative to qualify importers and exporters to build confidence in Australian trade and security in the supply chain. Eco Pallets is also a qualified member of The Australian Packaging Covenant Organisation, an industry body leading the development of Australian traders in a circular economy for packaging in Australia. (See Sustainability section for more information)
The manufacturer of our main products has ISO9001 (Quality Management) and ISO14001 (Environmental Management) accreditation.
Our friendly team are the experts when it comes to all things plastic pallets, plastic crates and spill control products.
Send us an enquiry below and we'll respond to you shortly afterwards.
Visit our contact page to view individual Eco Pallets Australia location maps.