While stackable pallets are quite self-explanatory, it's not always clear what makes a nestable pallet different.
In essence, the difference between the two types of plastic pallets is very simple.
Nestable pallets sit tightly together when empty, with their "feet" sitting inside the nested pallet beneath.
And in contrast, stackable pallets sit directly on top of each other.
While stackable pallets may not be as space efficient when empty, they do come into their own when loaded.
Which of these plastic pallets is best, is a question we're often asked. Both have their specific purposes and benefits and are equally proficient. The best choice of stackable and plastic nestable pallets will depend on what you're moving or storing, and where you're doing it.
Below we compare stackable vs non-stackable pallets.
Stackable vs Non-Stackable Pallets
Here we weigh up the benefits of nestable and stackable pallets and help you decide what's best for your business starting with nestable pallets.
What Is A Nestable Pallet?
Nestable Plastic Pallets are designed for nesting inside each other instead of being "stacked" when empty. The way that plastic nestable pallets join together produces a space efficiency not there with traditional stackable pallets.
It makes for improved storage in the warehouse and for more efficient transportation while nested. The way they join together is comparable to how plastic cups or takeaway styrofoam containers nest into each other when empty.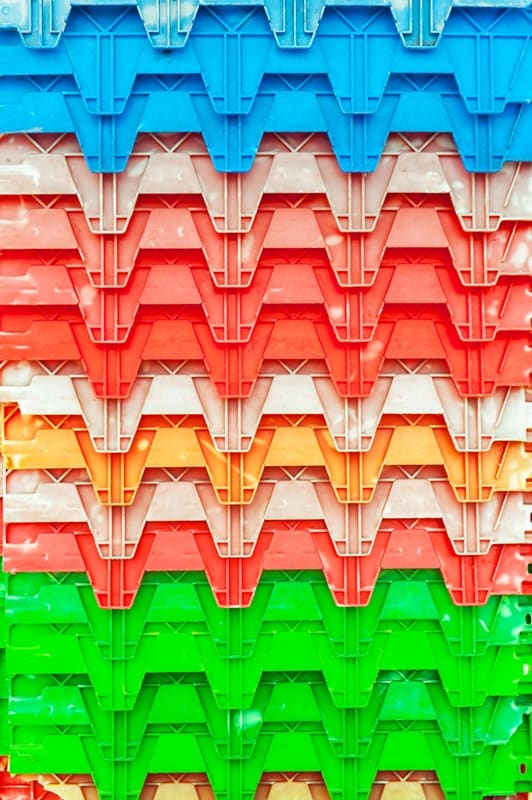 Benefits Of Nestable Pallets
Space-saving means improved warehouse storage
This space efficiency reduces freight costs
Plastic nestable pallets are cheaper to make (and buy)
Nestable pallets such as our ECO-1111SL 9Leg plastic pallet can reduce your storage space by as much as four times since they're designed to fit together much more closely when not loaded.
Plastic nestable pallets allow you to stack a higher number of empty pallets together during storage or return trips. Taking up less room reduces storage costs and enables you to use a smaller facility.
And your cost savings don't just end with pallet storage.
Freight costs can be significantly reduced on the return leg, as your shipment requires less space. This is extremely helpful in closed-loop supply chains, where the pallet or crate is recovered by the same organisation without a return load.
Nested crates are also cheaper to make, savings are passed on to consumers.
What Are Stackable Pallets?
Plastic stackable pallets have a solid platform on their bottom side. This bottom support allows stackable pallets to remain stable when double stacked, both with products on them or when empty for warehouse storage.
Benefits Of Stackable Pallets
Vertical stacking saves floor space
Lightweight
Solid platform
Suitable for racking
If you want to stack them while loaded or store them in racking, stackable pallets are what you need. Popular with warehouse supply chains, their solid base means they can be stored in a variety of shelving configurations and some can be stacked on top of other loaded pallets.
An example is our ECO-1210LA Stackable Pallet:
Stackable pallets are designed to be strong enough to manage heavy loads and to remain stable when stacked.
Vertical stacking allows much more of the available storage space to be used, crucial when dealing with large amounts of stock or big items. The base can be designed differently according to its intended use, such as with runners, and stackable pallets also sitting closely on top of each other when empty.
Remember that stackable pallets need to be fully supported when loaded and in racking.
What About Rackable Pallets?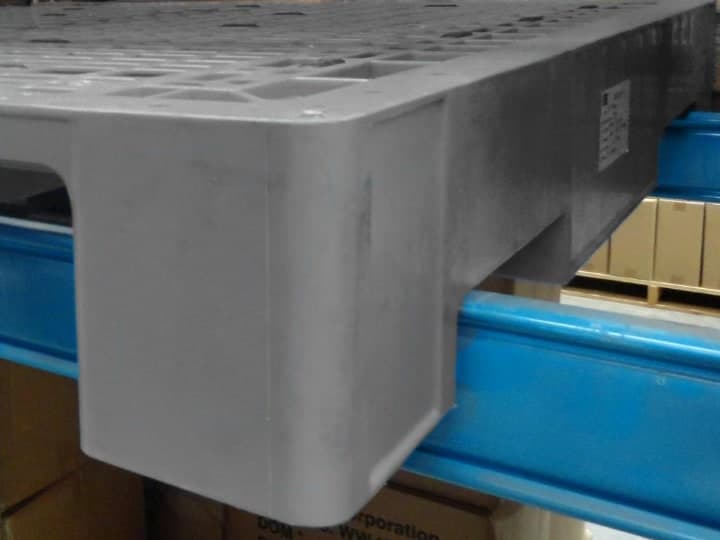 In contrast to being stacked on top of each other, rackable pallets can still be stacked and are considered stackable pallets. But their bottom-faced deck requires them to be edge-stacked within an edge-racking storage system or within an open-span racking system.
These are the safest and most durable pallets because they need to be secured onto racks.
An example of a rackable pallet is our heavy-duty ECO-1160L Rackable Pallet.
Tips To Choose The Right Pallet
Shipping Weight
The lighter your pallet, the cheaper your shipping costs. Freight rates are usually calculated by overall weight, and that includes shipping materials. Selecting the lightest possible crate for your load keeps your costs as low as possible, especially important if you ship frequently. Plastic pallets are much lighter than wood, but can still hold plenty of weight, so are a cost-effective option.
---
How Much Can It Hold?
It's crucial that your pallet can hold your goods both in transit and storage. Commercial stackable, rackable and nested pallets and crates will all come with a maximum weight. It's important you keep this in mind to avoid damaging your pallets and products.
Checking pallet size is also important to make sure it will fit into racking or other storage facilities, and that your larger products will sit comfortably on top.
---
Hygiene Requirements
Another important note to keep in mind when choosing is that pallets that carry food or pharmaceutical products need to be easy to clean and sanitise.
Depending on what you ship and where you send it, sanitation may be a priority. Pallets that carry food or pharmaceutical products need to be easy to clean and sanitise without risk of moisture retention or mildew.
Plastic pallets are an excellent choice where hygiene is important, and can make getting through customs simpler than when using wood as there is less risk of infection.
Recommended: Learn more about cleaning plastic pallets.
---
Compatibility With Pallet Trucks
If your logistics rely on your pallets and their goods being transported by jacks or forklifts, it's crucial that you select plastic pallets for sale that fit with your existing machinery.
Thanks for coming by the Eco Pallets Australia blog.
At Eco Pallets, we have a wide range of products to suit the needs of any business. Contact our friendly Eco Pallets team today to discuss which of our pallets will work with your existing supply chain to provide the solution you need. Additionally, you can view our FAQ here.
Recommended: Pallet Stacking & Storage: What's The Best Method?